Sydney's city and suburban skylines are set to metamorphose in just a few years with multiple high-rise apartment projects of up to 60 storeys on the way. On estimated construction costs alone, there are currently $11bn worth of developments from the top 100 projects on the go, from Willoughby and St Leonards in the north to Cronulla in the south, according to just-released data supplied by Cordell.
The five tallest towers it nominates — in Macquarie Park, the CBD and Parramatta — are above 50 storeys with eight above 40 storeys and the top 15 more than 30 storeys.Some of the high-rollers are in Lidcombe, Harris Park and Rhodes, prompting one leading developer, Central Element's director, Nathan Chivas, to note: "In Sydney's west, we're seeing suburbs completely transform thanks to development like what has been achieved in Parramatta."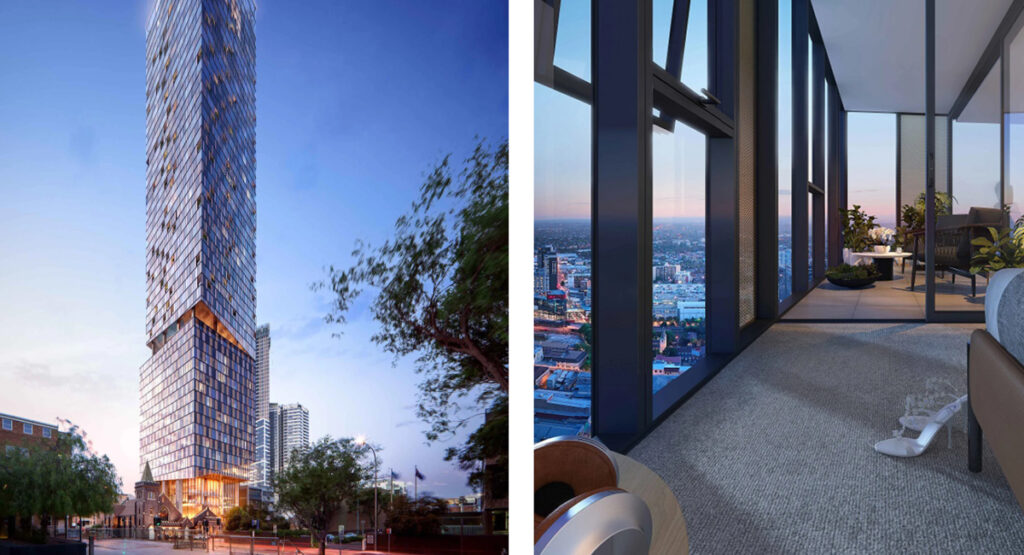 8 Phillip St by Coronation in Parramatta has been labelled "a lifestyle landmark" and is due for completion in 2025.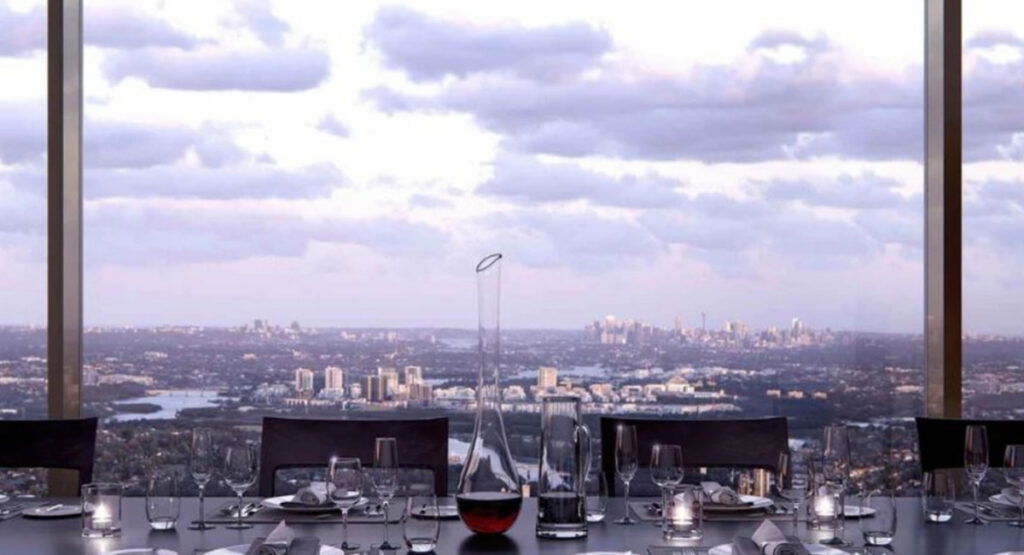 With 55 storeys, it promises incredible views. The 55-storey 8 Phillip St by Coronation, designed by Woods Bagot with 314 apartments and 252 hotel suites, is set to turn heads when it's complete in Parramatta in 2025. And one of the most striking CBD towers is the BVN-designed 50-storey City Tattersalls Club redevelopment in Pitt St, with a 101-room hotel and 241 "high-end" apartment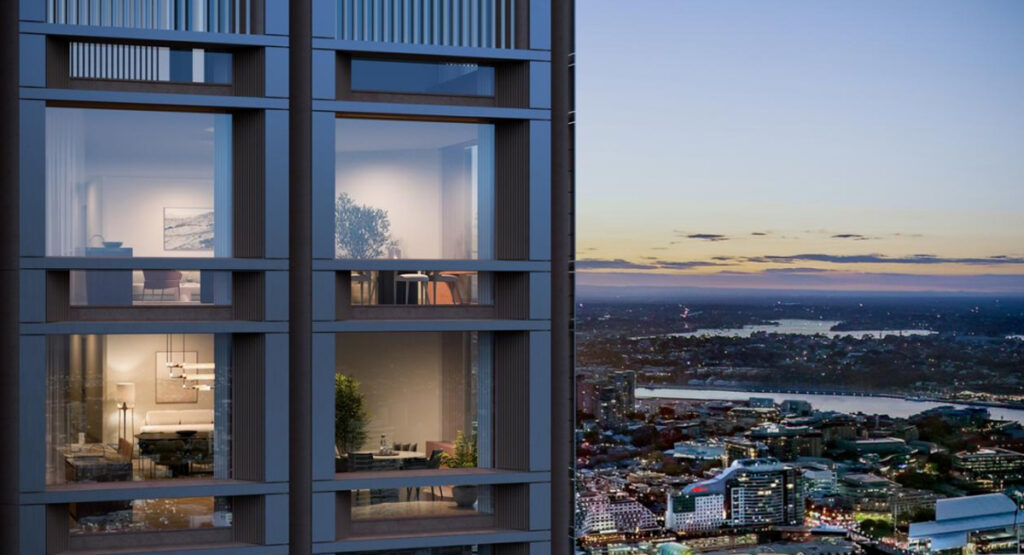 Deicorp's Hyde Metropolitan project will be 55 storeys tall. There's also a recently approved 55-level tower in the CBD, developer Deicorp's $700m Hyde Metropolitan, which will offer 168 apartments at 133 Liverpool St. Deicorp's founder Fouad Deiri says that when complete in 2028: "The Hyde Metropolitan will be one of the Sydney CBD's landmark residential towers."
According to Premier Chris Minns "to fix the housing crisis, we must build up, not just out – and that's exactly what we're doing." Cordell's top 100 projects, which includes high-rise but also boutique developments, provides an extra 24,000 units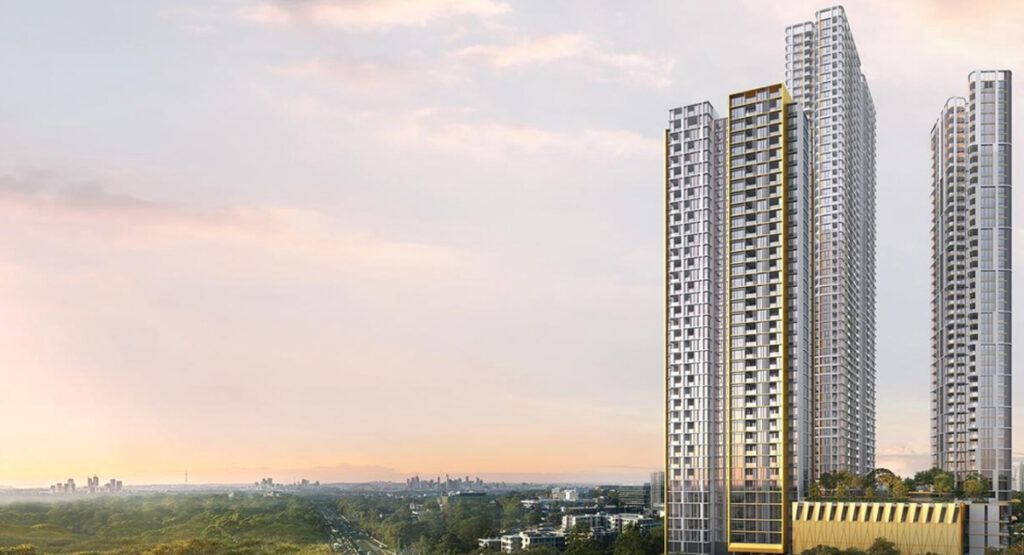 Trilogy by Meriton, Macquarie Park, consists of a 59-storey, 45-storey and 39-storey towers.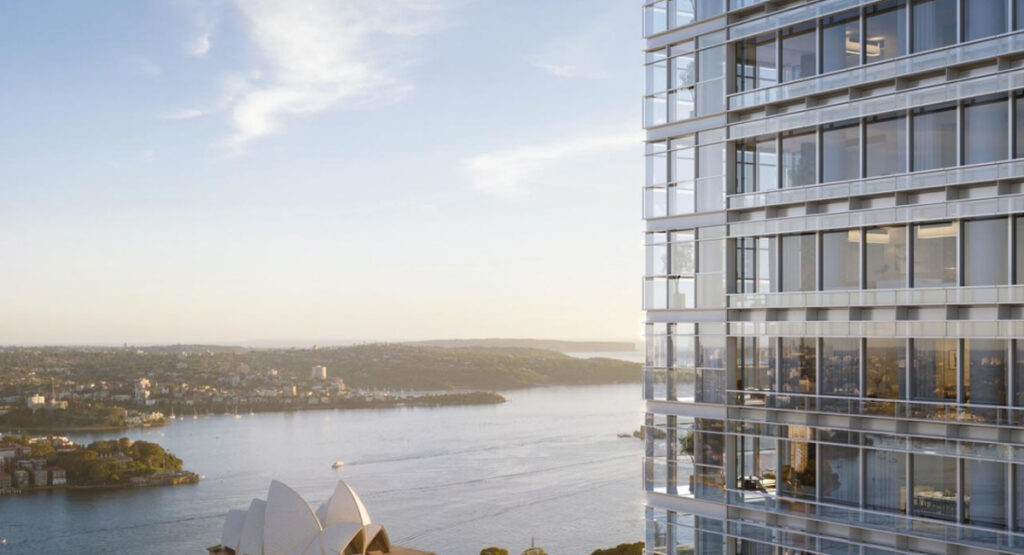 3D Renders of Lendlease development One Circular Quay, which will be 58 storeys. Yet developer lobby group Urban Taskforce says this won't come close to meeting the demand with the total number of approved apartments down on previous years.
"Developers have been hampered to date by pushback from a number of councils, which have consistently opposed apartments and density," says Urban Taskforce. CEO Tom Forrest.
Apart from the almost complete Renzo Piano-designed 72-storey One Sydney Harbour at Barangaroo, the tallest tower that's on the go is at Macquarie Park.
That's a 59-storey building that's part of the Trilogy development – joining two others at 39 and 45 storeys – but it's not even for sale, with the developer, Meriton, planning to lease all 1200 units out.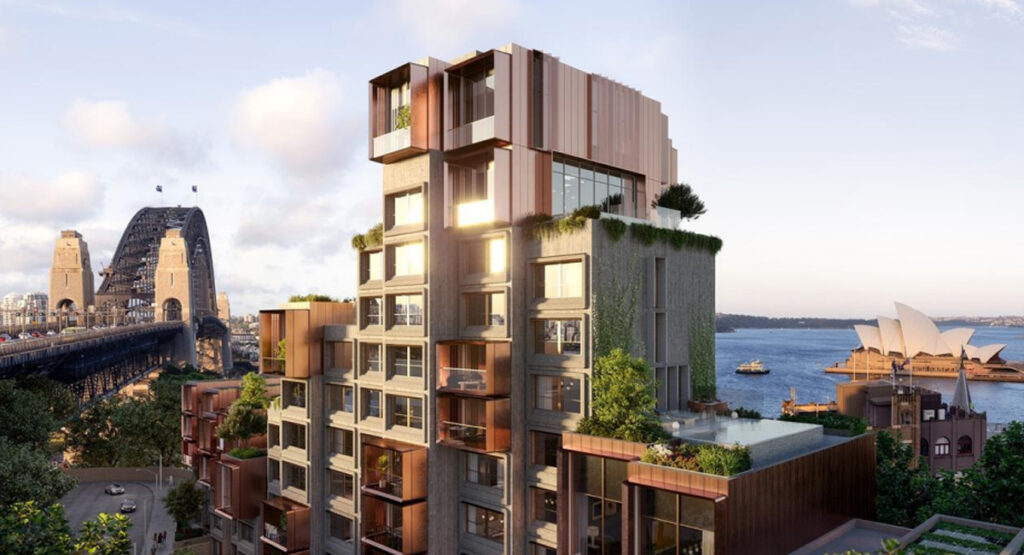 Although not a high-rise, the Sirius project at The Rocks is a notable CBD redevelopment.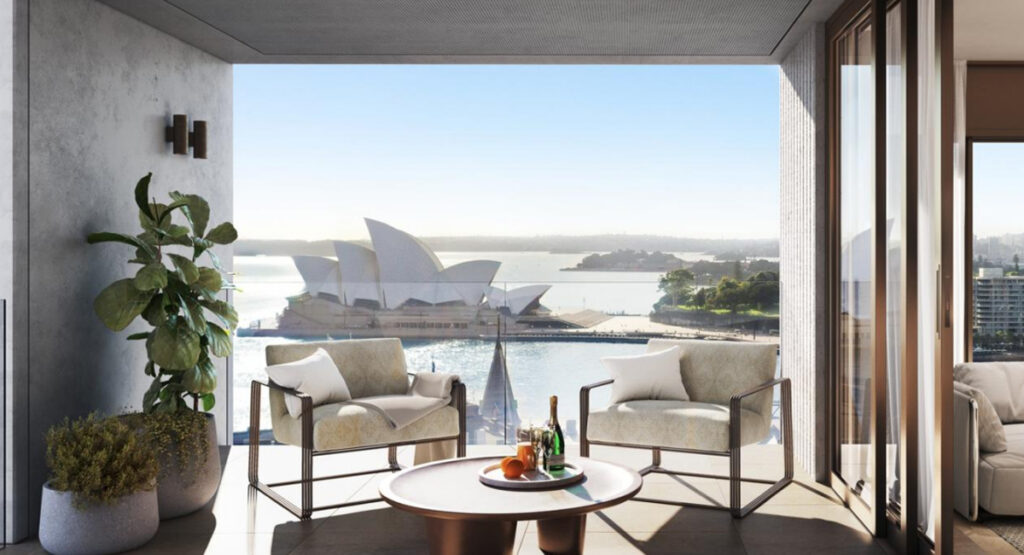 A $60m penthouse is set to be launched there. And you'll struggle to find an apartment in the 58-level One Circular Quay, with two-thirds of the 158 apartments already sold, including $70m and $60m sub-penthouses and a $37m "skyhome".
Says CBRE chairman, Justin Brown: "One Circular Quay is the most significant development since Bennelong in the 90s (branded 'The Toaster' at the time) for the CBD."
There've already been $1bn in sales in the $3bn project.
Cordell puts the construction cost at One Circular Quay at $290m, based on the original DA.
Although not high-rise, also notable is the redevelopment of Sirius, the former Housing Commission treasure in the Rocks, where a Point Piper resident paid $35m for a penthouse.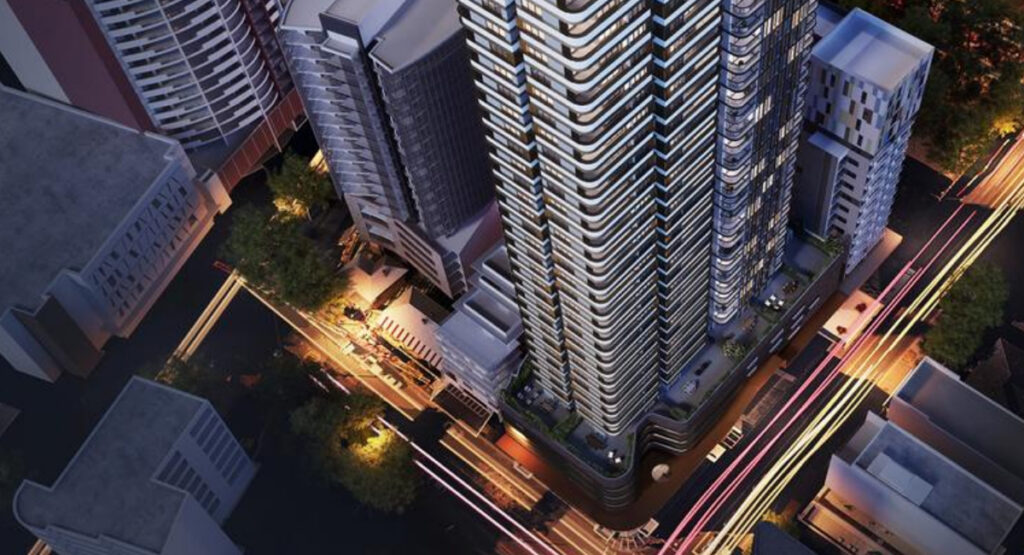 Paramount on Parkes in Harris Park will rise 46 storeys.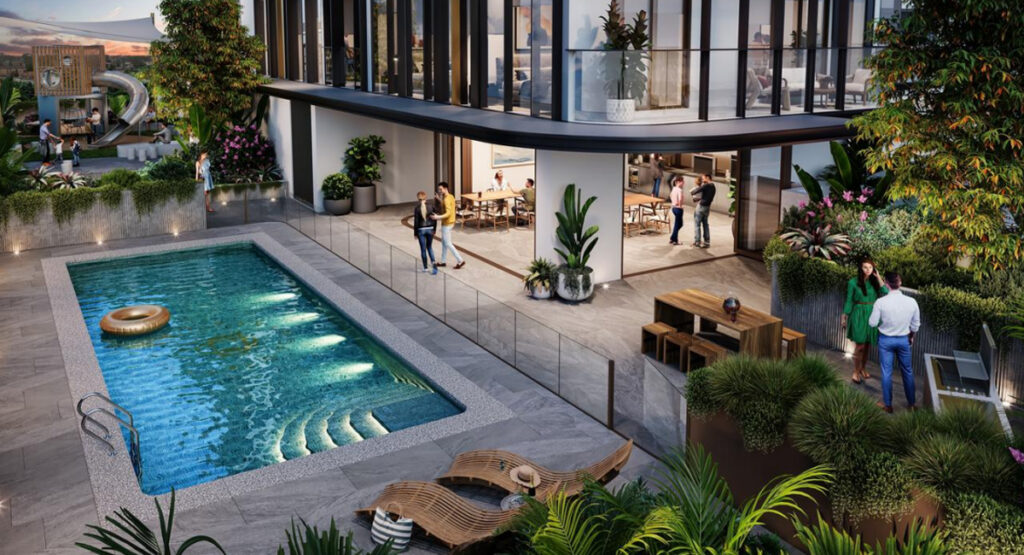 There's a pool downstairs for residents.
That project, by developer JDH Capital, is worth $550m according to CBRE.
Says Central Element's Chivas: "Throughout Sydney, we are witnessing lots of development and change. We are seeing areas being revived thanks to development in the CBD around Central Station, which we are watching with great enthusiasm given our Hyde Park project."
The developer, with equity partner MaxCap Group, are building 42 apartments on the site of the Hyde Park Inn at 271 Elizabeth St, designed by architects Angelo Candalepas and Glenn Murcutt.
In Harris Park, Paramount on Parkes will be 46 storeys and its completion value $357m. It's expected to be completed by late next year and will feature 331 apartments, a pool, barbecue area, landscaped gardens, children's play area. A one bedder starts at $629,000; two-bed from $829,000; three-bed from $1,106,000.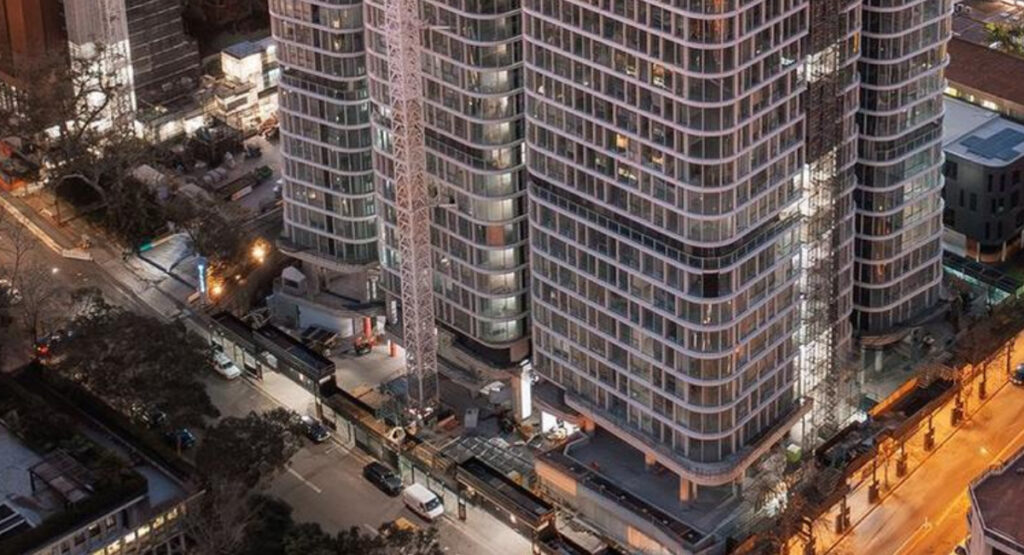 Aura by Aqualand is 80 per cent complete and will rise 29 storeys in St Leonards.
A 45-storey tower called The Retreat is on the way to 4-8 Uhrig Rd, Lidcombe and a 34- storey building is also destined for 34 Walker St, Rhodes.
In North Sydney, a 29-storey tower with 386 apartments called Aura by Aqualand is 80 per cent complete. It will feature large luxury residences designed by Woods Bagot and Richard Stanisich above a curated retail and dining precinct with panoramic city and harbour views. It's due to be complete by mid 2024.
Some of the most impressive projects set to change our suburbs for the better aren't necessarily reaching for the sky. A six-storey redevelopment of a tired 1960s-era shopping centre known locally as "Murder Mall" is nearing completion.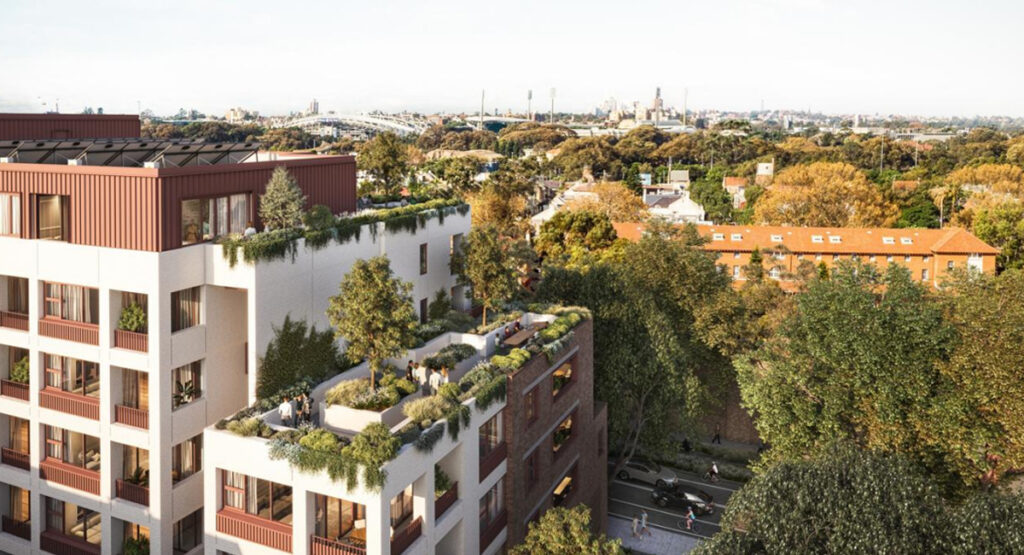 Just 20 apartments remain for sale in the long-awaited redevelopment of Surry Hills Village.
Developer Toga's Paul Shaw is rightly proud of the six-level $500m+ Surry Hills Village, saying: "We had a vision to create a development that Sydney's inner east has never seen before … luxurious residential with wonderful places to dine, shop and work, with an amazing hotel, rooftop pool and bar."
The Baptist St, Redfern six-level site consists of 122 apartments designed by SJB with BKH interiors. It will offer Coles, Harris Farm, restaurants including House Made Hospitality (Carrington Hotel, Promenade Bondi Beach); a market-style laneway; EV car-charging facilities and a boutique hotel.
With the completion date the second quarter of next year just 20 units remain, one-bedders from $1.2m; two-beders from $2.075m; three-bed from $3.1m and three-bed terrace homes from $3.75m. One penthouse is also still available.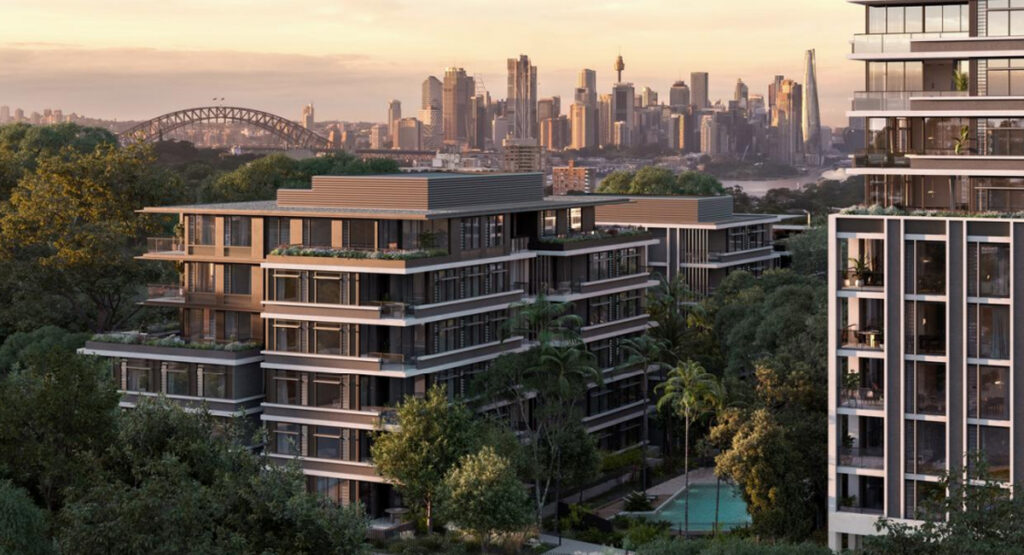 The Newlands, St Leonards will be complete in 2026.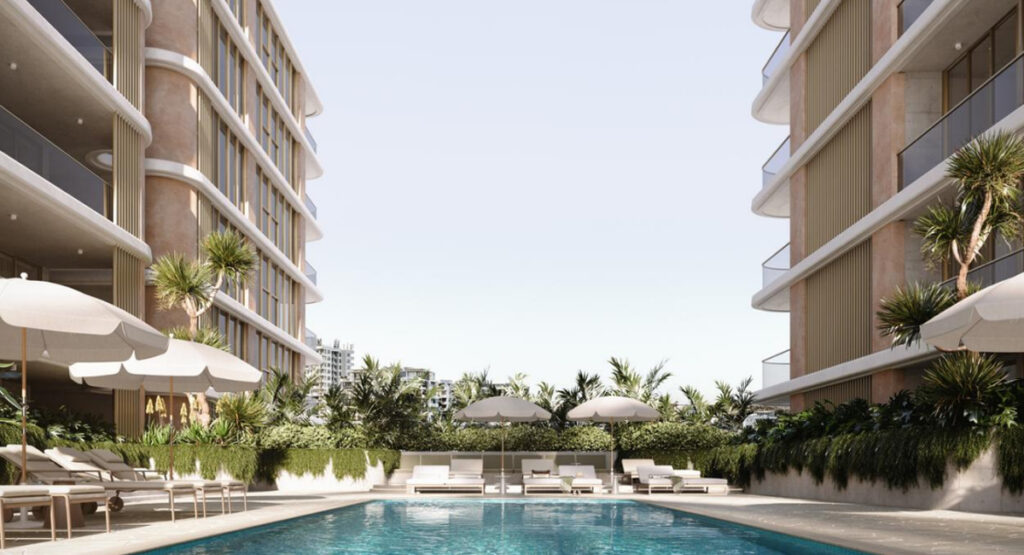 VUE is being built in Cronulla by Sammut Group
Other desirable projects include Top Spring's The Newlands, which will transform St Leonards.
Said Blake Schulze, National Director of Residential at Colliers,:"It's a beautiful set of nature filled master planned developments — what everyone wants but in apartment form."
The 10-storey $580m project consists of five buildings ranging in height from eight storeys to 12 storeys. Located at 21 Canberra Ave and 18 Holdsworth Ave, there'll be 323 apartments designed by award-winning Australian firm Bates Smart, with landscape design by Arcadia Landscape Architecture.
Features include Tesla share cars, outdoor pools and wellness spaces. One-bedroom units are priced from $870,000; two-bedders from $1,465,000; three bedders from $2.43m to three-bed garden terraces from $3.06m. Stage one will be complete in 2025 with stage two the following year.
And in the south, a seven-storey project called VUE by Sammut Group is coming to 3-23 Kings Way, Cronulla. With a completion value of $350m, there'll be 112 apartments designed by PPD Architects set over two eight-storey buildings with 3000sqm of retail, including Harris Farm. Features include a pool, pavilion, sauna, open-air gym.
With completion set for 2025, the one bedroom units are priced from $1.25m; two-bed from $2,115,000 and three-bedders from $3,215,000. "When completed, VUE will become one of Cronulla's iconic buildings," says Sammut Group Chief Operating Officer Julian Sammut.