Rise and fall clauses in building contracts are increasingly on the table as developers and builders team up to crunch the numbers to hold Australia's teetering construction industry together.
But a significant risk remains from the sector's most critical allies in the battle to prevail through the "profitless boom".
"There is a risk that some of the important parties that make building work happen—and I'm talking principally about banks and other financiers—may not play ball," Master Builders Australia chief economist Shane Garrett said.
Speaking at The Urban Developer Residential Apartment vSummit, Garrett said the peak body was calling for the inclusion of rise and fall clauses to be made "more widespread".
"So that when costs beyond the control of builders increase in an unanticipated fashion there is provision for those costs to be passed on.
"And a reasonable and acceptable profit margin is actually maintained and the viability and effectiveness of the market is not hampered."
Garrett said governments as "clients of best practice" should be spearheading the balancing of the scales of construction cost-based risk through the implementation of rise and fall clauses in contracts for their building works.
"We think that governments that do undertake a lot of building and infrastructure work should lead the way here and be helpful and supportive to builders that are going through financial difficulties," he said.
"Show a bit of flexibility above and beyond the strict confines of contracts … ensuring that the work is done in a manner that is fair and in a way in which cost increases are shared."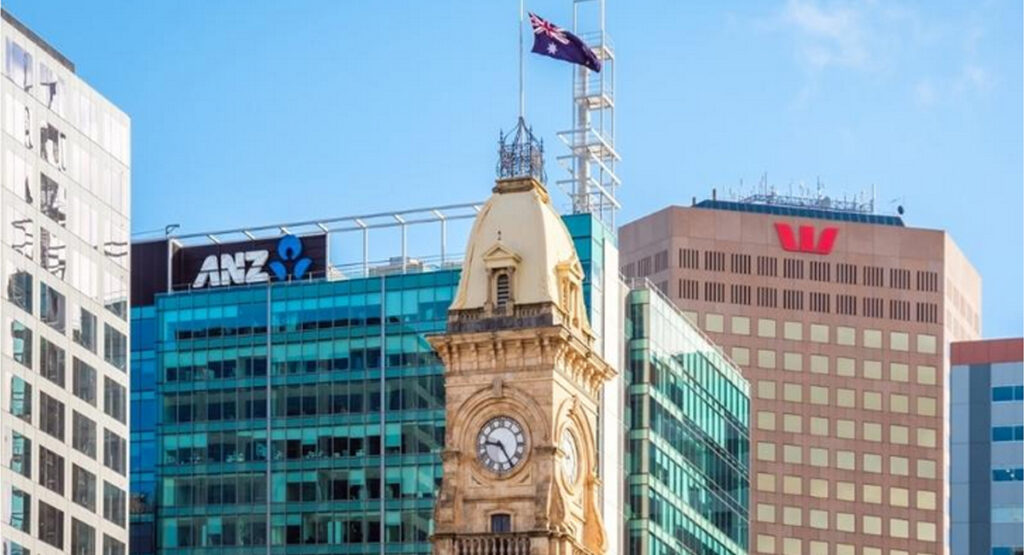 Financial institutions, including Australia's big four banks, are more than ever critical allies to the sector.
But he added that there was evidence that in some situations if rise and fall clauses were implemented there was a risk "banks just may not play ball".
"And that's a worry," he said.
According to the latest BIS Oxford Economics global construction briefing, supply chain issues due to lockdowns in China and the Russia-Ukraine conflict are expected to persist and continue to impact construction costs.
"The mismatch between supply and demand point to construction costs remaining high into 2023 … increasing the risks of cost-blowouts as well as project delays and cancellations," it said.
"We are already seeing a growing lag between building approvals, commencements, and completions in a number of geographies, and also an increasing drop out rate as a growing number of approved projects are delayed or abandoned."
Sydney-based developer Sammut Group's chief operating officer Julian Sammut said establishing a holistic collaborative developer-builder approach was key under the pressure-cooker circumstances.
"Everyone's basically in the same boat and everyone's wanting to ensure the same outcome," he said.
"Rise and fall [clauses] is something that we've definitely taken on board.
"It's about working with your builder to make sure that at the end of the day they are there and they can finish the project.
"But it's also about making sure they understand it does provide risk for us … and knowing what certain aspects of the contract we can put rise and fall on so we can come to that agreement holistically.
"Because we need to make sure that price is there and everyone is happy with it otherwise, we're not going to be able to lock in our finance.
"And if we can't get that figure and it's constantly changing, it doesn't help anyone."
Sammut said in terms of getting developments out of the ground "everything is a moving dynamic at the moment".
"It's a constant revolving circle. Contractors are coming to us saying this is the price, we then go back to the financier and they say we need to get the price down, so we got back to the contractor but the price has moved and we have to go back and ask for more funds."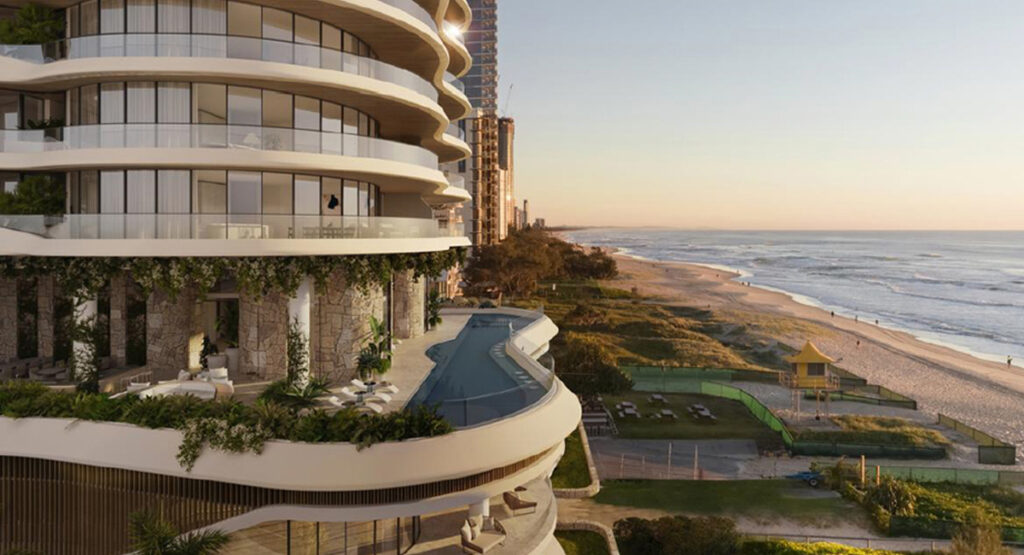 A render of Sammut's Gold Coast debut, Coast, in Surfers Paradise.
He said initial construction cost estimates on Sammut's debut apartment tower development on the Gold Coast had blown out but it had worked with the contractor Multiplex and "everyone was on the same page". 
"Over the space of about a three-month period we saw at least a 15 to 20 per cent increase on the construction cost.
"We ended up just north of the $100-million mark on the build and we were estimating it to be sub that."
Brisbane-based Hutchinson Builders construction finance manager Desmier Nairn said developers had become increasingly more receptive to rise and fall clauses.
"We are getting a lot of sympathy to rise and fall type provisions," she said.
"But not on an across-the-board basis on an entire building contract, mainly because it's very difficult for financiers to fund a contract of that nature.
"So, we're looking at a number of different things … we might cap an amount and beyond that it's a price increase or we have a rise and fall [provision] across particular items."
She said the Hutchies house view was that it expected supply and labour constraints to continue to be "quite challenging" for the next 12 months.
"I think in this market I would expect most developers want to sign up with a builder who is going to be there at the end of the project.
"We've seen a few high-profile collapses … and I think everyone knows if your builder falls over, and you've got to bring another builder in, whatever your cost to complete was it will be at least three times that."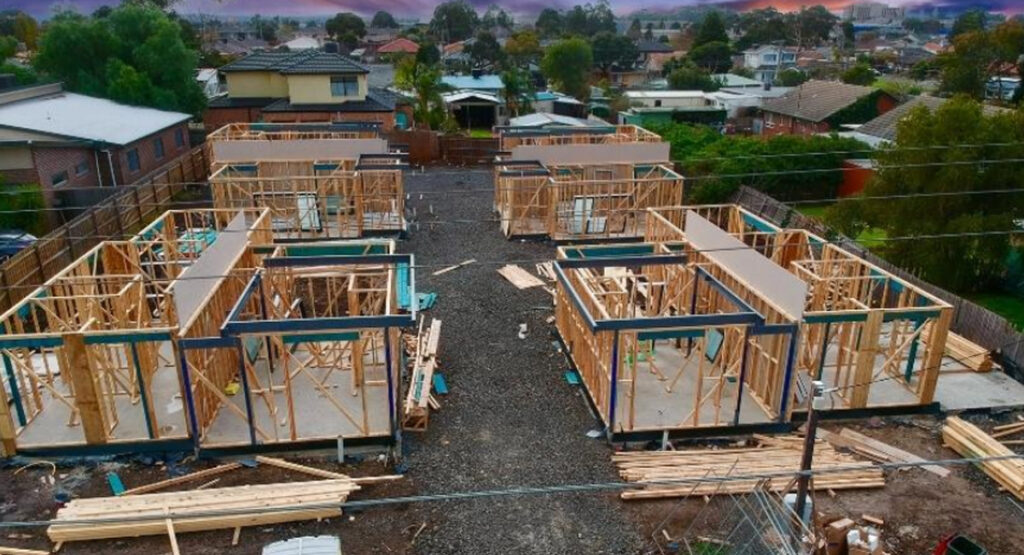 Hutchinson's construction finance manager Desmier Nairn says the profitless boom is no myth.
Nairn said it was "a truly unprecedented time" for construction and the profitless boom was a reality.
"What we're seeing is all sectors of the market at the moment are booming.
"Usually, office might be strong and residential is a bit down or vice versa, and you can move into whatever sector is firing.
"But all sectors are firing, not just here but globally and so when we're getting supply from offhsore we're competing with Europe and America.
"[As a result] escalation across all sectors of the market has just moved so quickly in the last six months … we have real supply chain issues.
"At the moment Hutchies can't offer a price for longer than about 30 or 40 days because of that volatility in the market so we're very selectively looking at what jobs we undertake.
"If someone was to come in and ask us to tender and there were other builders on the list we'd probably pass on that opportunity because the costs of tendering are high … and in this market we need to select jobs that we think are more likely to go and go within a short time frame."
Nairn said over the past decade there had been "a transfer of risk onto the builder in building contracts but there hasn't been an increase in margin to reflect that reallocation of risk".
"So, you're already going in at a small margin to start with.
"Then, with unexpected events like Covid, flooding and the war in Ukraine, there's no contingency. So, you end up with a job that's break even or loss making."
The latest analysis from BIS Oxford Economics indicates global supply chain disruptions have intensified in 2022 and "a prolonged period of construction cost inflation threatens to overshadow the upswing in activity".
"We have seen a growing number of construction company insolvencies in the face of rising costs—particularly for firms which are locked into prices that were fixed up to a year ago—and there are likely to be more to come," the report said.
"The challenge for the construction industry is limiting potential contagion effects of these failures, as unpaid suppliers and subcontractors themselves face further hardship."