It is the Gold Coast's hottest half kilometre of absolute beachfront with a sand grab by developers hitting a $150-million high-water mark and still rising.
Even as The Urban Developer was compiling this report another sale was sealed along the Northcliffe Terrace-to-Garfield Terrace stretch between Surfers Paradise and Broadbeach.
The latest transaction is the second windfall for construction industry veteran Mick and Denise Power along the oceanfront strip that is on the cusp of a new era of high-rise development.
In a freshly-inked deal, the couple have secured a buyer for The Premiere, an eight-level apartment block on an 865sq m site with 20m of beach frontage at 71 Garfield Terrace.
It is understood the multi-million-dollar deal negotiated by CBRE's Mark Witheriff and Rem Rafter was in the "high teens".
That puts it among other recent Northcliffe Terrace-Garfield Terrace site sales that have set new benchmarks for absolute beachfront land with rates nudging $20,000 per square metre and beyond.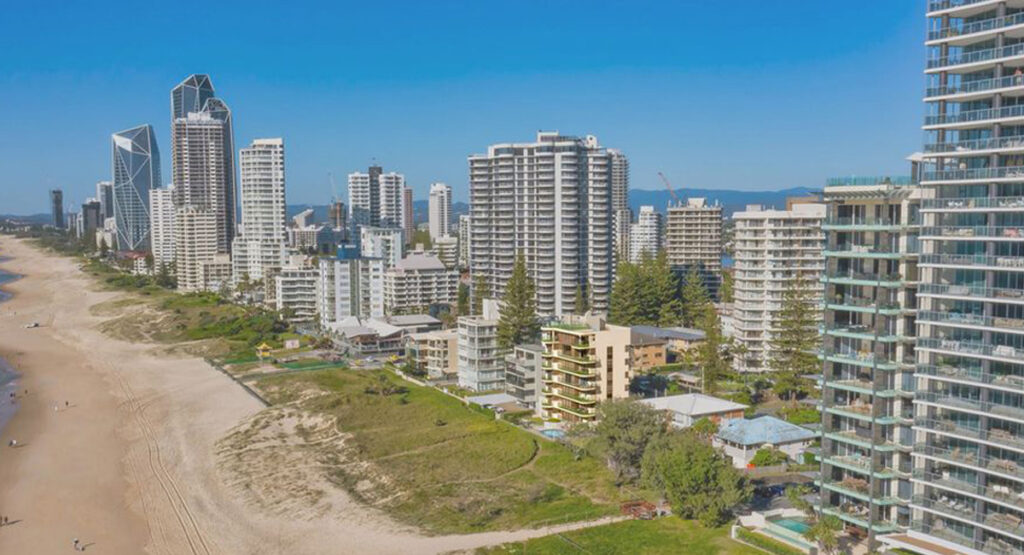 Older-style apartment blocks that have dotted the Northcliffe Terrace-Garfield Terrace beachfront for up to 50 years are in the sights of developers. Image: 71 Garfield Terrace
In July, the Powers pocketed $30 million from the sale of an adjoining 1500sq m beachfront holding at 75-79 Garfield Terrace.
It was acquired by Sydney developer Weiya Holdings, which in 2019 paid $18 million for the landmark Old Burleigh Theatre Arcade site on the southern Gold Coast.
Another Sydney developer, Stoyan Kiceec, has recently sealed a deal sight unseen for the six-storey 1970s Anglesea Court on a 1037sq m site at 9-11 Garfield Terrace.
Changing hands in a mortgagee-in-possession sale, its purchase price was a $3-million premium on the $16 million paid only last year before receivers took control of its short-lived former owner.
Kiceec told The Urban Developer it was an opportunistic acquisition that had unexpectedly set the scene for his X-site Group's development debut in the heart of the Glitter Strip.
"We weren't even looking up that way and found out late in the piece about the availability of the property," he said. "The location was the thing that piqued my interest.
"So, we had to act pretty quickly. We probably did two or three weeks' worth of due diligence in a day-and-a-half … and, ultimately, we were lucky enough to get it.
"Now, we've just got to wait for the borders to unlock so we can get up there and have a look."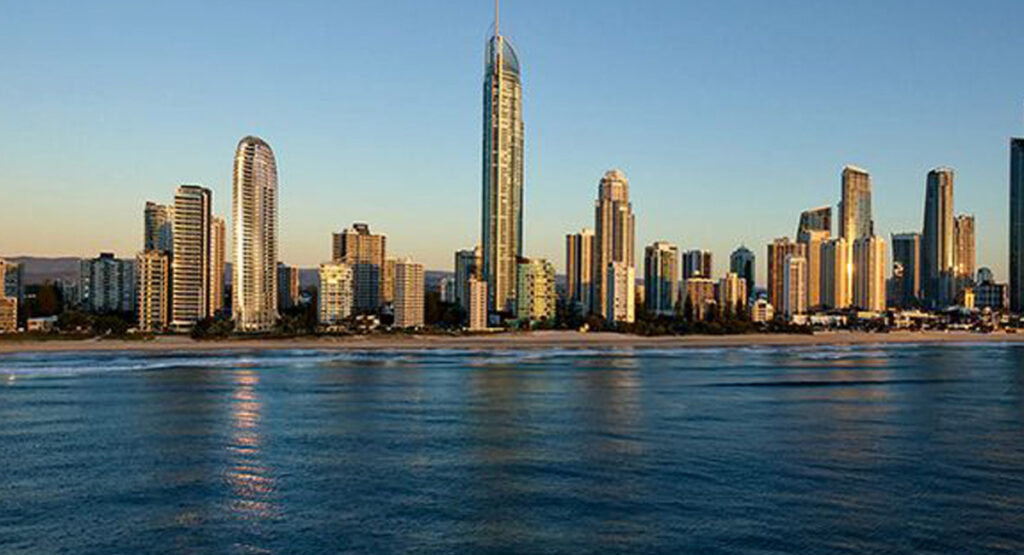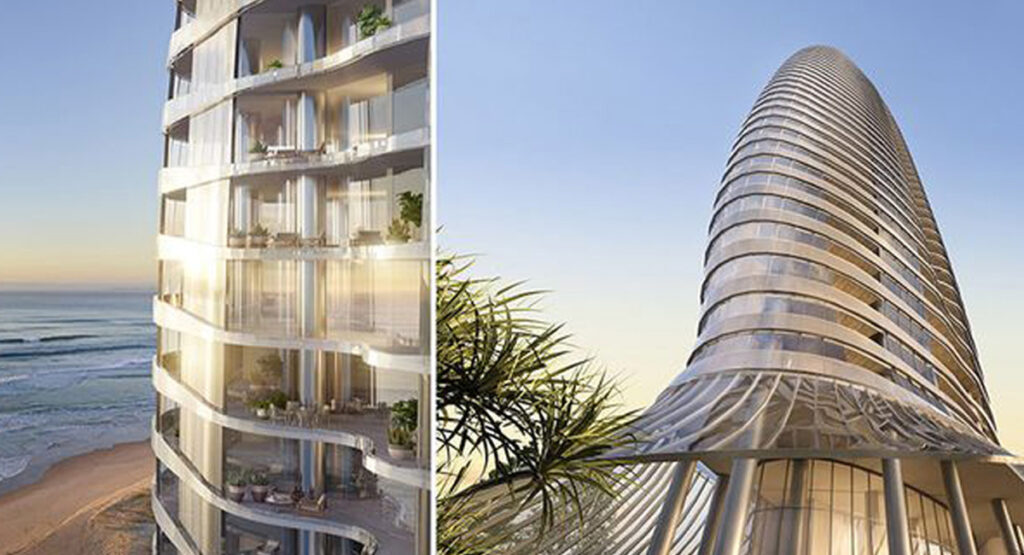 Devine Development Group is planning to build a 38-storey golden tower at 7-9 Northcliffe Terrace. Image: DKO Architecture
Kiceec said he had already binned the site's existing development approval that allowed for a 16-level, 115-suite hotel.
"We've scrapped that completely … it didn't take long to work out a hotel approval was not the way to go," he said.
"We're now working on a 23-storey boutique residential tower design with 37 high-end apartments and two floors of amenity.
"A lot of other developments are trying to squeeze in as many apartments as possible. Further up the road there's a site of 800 to 900sq m with approval for 50 apartments and I get claustrophobic just looking at it.
"We could have done the same thing and hit 50 or 60 apartments but we're looking for a specific point in the market and that's just not the right feel."
Ray White's Mark Creevey, who negotiated the deal with colleagues Tony Williams and Matthew Fritzsche, said 188 inquiries were fielded and 23 formal offers put on the table.
He said with the only other nearby absolute beachfront holdings being along Hedges Avenue—the Gold Coast's "millionaires row"—the Northcliffe Terrace-Garfield Terrace strip had attracted renewed focus from developers diving into the city's booming luxury apartment market.
"There's still quite a lot of older-style buildings from the 1970s and 1980s along that beachfront stretch and over the next few years it will go through a complete gentrification and urban renewal," Creevey said.
The Gold Coast property sector has emerged as one of the strongest markets in the country during the pandemic with apartment sales surging 97 per cent in the first quarter of 2021.
"The impact of Covid on peoples' psyche has created a desire for property on the Gold Coast and all the indications are that it will be a sustained strengthening in the market," Creevey said.
"That, in turn, is giving developers the confidence to buy these sites and build projects."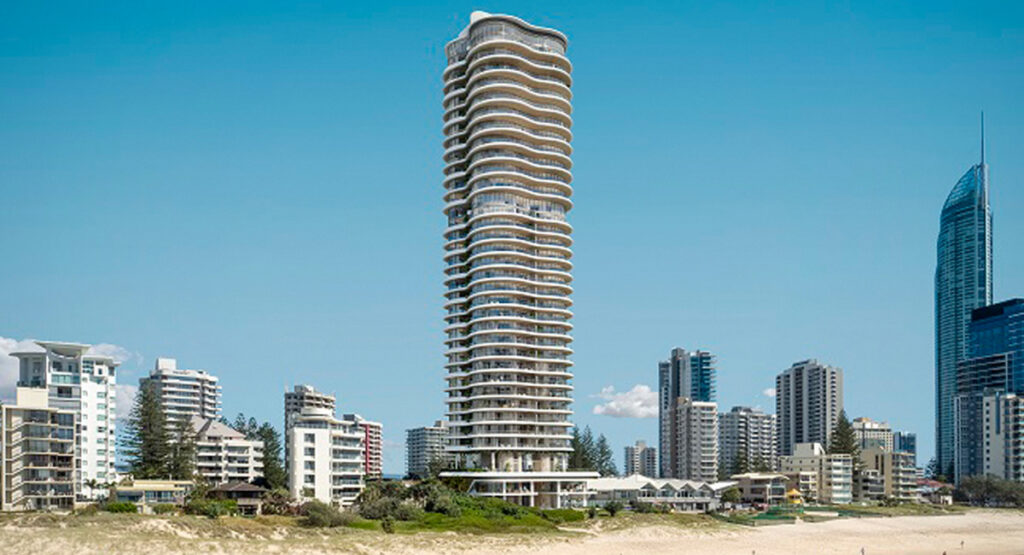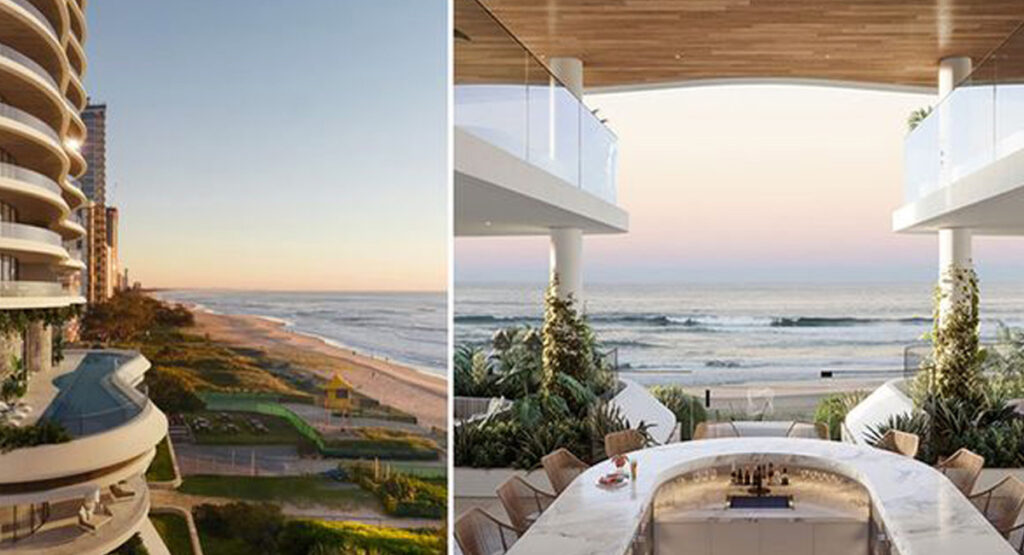 Sammut Group and Alceon Group have plans for a 35-storey "luxury" tower in Surfers Paradise next to the Northcliffe Surf Life Saving Club. Image: PBD Architects
The sales of The Premiere and Anglesea Court sites are the latest in a developer spree along the Northcliffe Terrace-Garfield Terrace strip that has gained considerable momentum during the past six months.
Veteran Queensland developer David Devine forked out $45 million for the 2251sq m beachfront site of the 14-level Surfers Royale at 7-9 Northcliffe Terrace. He is planning a $340-million residential tower with 108 apartments across 38 levels.
Only a few hundred metres away, Sydney-based Sammut Developments in partnership with Alceon is set to deliver a $200 million 35-storey tower with 49 apartments on the site of the ageing 10-storey Garfield on the Beach at 43 Garfield Terrace.
Melbourne's most prolific apartment developer Central Equity also has unveiled plans for a 56-storey apartment tower after amalgamating 19 titles to create a 3259sq m block on the corner of Garfield Terrace and Frederick Street.
Meanwhile, billionaire Queensland businessman Brian Flannery and his wife, Peggy, have been quietly staking their own sizeable beachfront claim in a property play totalling almost $20 million.
It includes the Kuleena apartment complex at 27 Garfield Terrace and two other buildings to the north spanning a combined 2026 square metres.